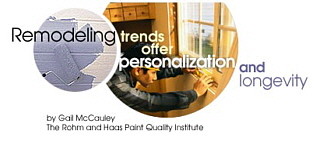 Approximately $180 billion... This figure represents the financial investment that homeowners spent in 2003 in order to improve their homes, according to the National Association of Home Builders.
In addition to concern for home improvements adding value to their existing homes, homeowners are also dramatically interested in transforming their homes into comfortable and functional living spaces. Kitchens continue to expand and bathrooms progress with obtaining more luxurious elements; both remaining highly desirable and popular remodeling projects. However, home improvement industry experts are reporting a surge in specific remodeling trend themes. Current remodeling projects are witnessing a dramatic emphasis on creating specialty areas to fit individual family member needs. Attractive, high quality materials are the method of choice and high on the priority list for today's savvy consumers.


Homes continue to evolve into living spaces that meet the needs of every individual who resides within the structure. It is not unusual to find remodeling projects that result in the creation of very specific areas for each member of the household. The home library, media space, craft room, massage suite, spa area or wine cellar are but a few distinct 'zones' that are growing in popularity amongst many of today's contemporary homes. Although the ultimate luxury consists of more 'space', homeowners are not willing to sacrifice quality for quantity. When space is limited, homeowners continue to lean toward a distinct definition of areas for those who occupy the home. For instance, it is not unusual to find a husband and wife who undertake a small remodeling project that separates one large walk-in closet area into two small but separate walk-in closets, defining the space for each individual within a restricted master bedroom space.

Comfort colors representing earthy, natural hues are at the forefront of helping to beautify home remodel projects. Today's quality paint products provide a budget-friendly way to implement the hottest color choices as well as customize the remodeled space. Rich neutral colors are available in many more than the 'expected' warm brown tones. Contemporary neutral hues also reflect baked reds, smoky blue/grays, washed golds, muted greens and a large array of unexpected variations of exciting colors, including a full range of whites.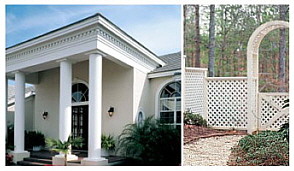 Quality paint products ensure maximum adhesion and attachment to surfaces, as well as greater durability to ensure a long-lasting remodeled project. Consider any of today's new substrates to infuse beauty and longevity to the impending remodel task. Factory-finished aluminum finishes add an attractive, glossy finish to projects that have entry doors, columns and railings; whereas vinyl and pvc material products are newer available choices for remodel projects that entail exterior decking, walkways, lattice and fences. Polyester, fiberglass and synthetic stone materials lend practicality and embellish exterior living space remodels that have benches, balustrades and railings. Consulting with a paint professional regarding proper surface preparation and painting procedures is of prime importance in order to establish the most effective results for any upcoming remodel project. Download our free pdf brochure on Painting Today's New Substrates (pdf opens with Acrobat Reader).

As homeowners continue to place an intense emphasis on finding comfort within their home structure, home improvements and remodels will continue to surge. The implementation of quality paint products are a financially responsible way to bring fashionable customization and long lasting results to any remodeled area. •
---



more PQI "Do It Yourself" Articles
www.paintquality.com




| | |
| --- | --- |
| | Custom Search |